Discover the  Precision of Davies Molding Insert Molding
Insert Molding: Designed to Fit Your Project
Before diving into our expertise, let's briefly understand the significance of insert molding. It's the art of crafting complex parts by merging different materials with an inserted component into a single, seamless design. This process, widely adopted by the automotive, electronics, medical, and consumer goods industries, demands surgical precision and unwavering quality.
Davies Molding's Insert Molding
Decades of Mastery: With over 90 years of experience, Davies Molding has mastered the intricacies of insert molding. Our journey has been a relentless pursuit of perfection, making us seasoned veterans in the field.
Cutting-Edge Technology: At Davies Molding, we've embraced state-of-the-art technology, guaranteeing unrivaled precision and efficiency in insert molding. We believe in pushing the envelope and redefining what's achievable in this craft.
Tailored Excellence: One size doesn't fit all, and we understand that. Our highly skilled engineering team collaborates closely with you to craft bespoke insert molding solutions. Whether it's an intricate component or high-volume production runs, we're equipped to deliver.
Commitment to Quality: Quality has been core to Davies Molding for 90 years. We've embedded stringent quality control standards into every facet of insert molding - from conception to material selection, production, and finishing. Every part we create not only meets but often exceeds industry benchmarks.
Material Mastery: Our material expertise spans a vast spectrum, from plastics to metals. This profound understanding empowers us to select the most suitable materials for your insert molding project, accounting for factors like durability, strength, and cost-efficiency.
Financial Stability: Davies benefits from the support of a multi-billion dollar organization, guaranteeing our enduring commitment to serving you for the long haul.
Where Our Expertise Shines
Our insert molding shines through in an array of industries:
Automotive: Davies Molding plays an indispensable role in crafting precision insert-molded parts for vehicles. From interior elegance to robust under-the-hood components, we contribute to automotive safety and performance.
Electronics: In the world of electronics, precision is paramount. Our insert molding solutions are instrumental in creating dependable, compact electronic devices - think connectors, switches, and sensor housings.
Medical Devices: When it comes to healthcare, there's zero room for error. We manufacture medical components with precision and use biocompatible materials to ensure that medical equipment meets the highest quality and safety standards.
Consumer Goods: Our insert
molding expertise elevates a wide range of consumer products, from household appliances to sporting gear, by delivering durability and functionality.
Choose Davies Molding for Excellence in Insert Molding
When you partner with Davies Molding for your insert molding needs, you're partnering with decades of manufacturing excellence. We're not just a company; we're your ally, committed to offering outstanding service, innovative solutions, and top-tier products that not only meet but exceed your expectations.
Reach out to us today to discuss your insert molding project. We're eager to collaborate with you, turning your concepts into reality and helping you excel in your industry. Experience the Davies Molding difference in insert molding – where precision meets passion.
---
Choose from a variety of  insert options to suit your project


THREADED INSERT
Standard Material:
Brass, steel, or zinc-plated


THREADED INSERT THRU-HOLE
Standard Material:
Brass, steel, or zinc-plated


BUSHING
Standard Material:
Brass, steel, or zinc-plated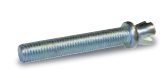 PROJECTING STUD
Standard Material:
Steel, stainless steel, or zinc-plated

HEX NUT
(Standard or Nylon Locking Ring)
Standard Material:
Steel or zinc-plated

SLOTTED SET SCREW SOCKET
Standard Material:
Steel, zinc-plated, or black oxide finish

SOCKET SET SCREW
Standard Material:
Steel, zinc-plated, or black oxide finish
---
Have any questions about materials and capabilities?
Contact Us through our online form or call 1-800-554-9208.