Ball Knobs
Davies ball knobs come in a wide selection of diameters, materials, and molded-in inserts. There are thousands of uses for ball knobs: lawn mowers, exercise equipment, machinery, valves, spigots, levers and much more.
Features and Benefits of Davies Ball Knobs
►

Extensive diameter assortment of ball knobs available in thermoplastic (TP), thermoplastic elastomer (TPE), and thermoset (TS) materials.

►

Thermoset ball knobs are available in both rubber and phenolic.

►

Deluxe ball knobs feature a high gloss sheen and are buffed and polished.

►

Standard ball knobs are available in several sizes, ranging from 43/64" to 2-3/8" in diameter.

►

An optional shank to add height may be included when extra clearance is needed.

►

Our thermoplastic ball knobs come in a variety of colors.

►

Female insert, projecting stud, and molded/tapped threads options are available.

►

Click on the part number for additional information, and search by diameter, mounting, material, etc.

►

Knobs can be decorated or customized to your specific need.
0131
0.78" Rubber
Ball Knob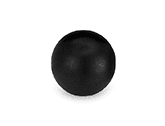 0136
1" Rubber
Ball Knob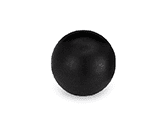 0141
1.25" Rubber
Ball Knob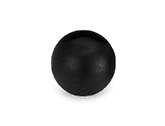 0146
1.41" Rubber
Ball Knob
0151
1.59" Rubber
Ball Knob
0156
2" Rubber
Ball Knob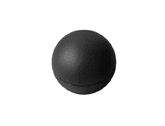 0012
1" Thermoplastic
Ball Knob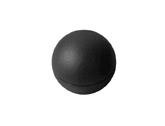 0013
1.17" Thermoplastic
Ball Knob
0014
1.25" Thermoplastic
Ball Knob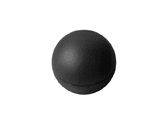 0016
1.375" Thermoplastic
Ball Knob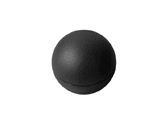 0017
1.54" Thermoplastic
Ball Knob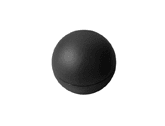 0018
1.5" Thermoplastic
Ball Knob
0019
1.875" Thermoplastic
Ball Knob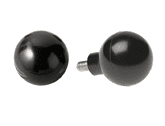 0025
1.25"/ 32mm Thermoset
Ball Knob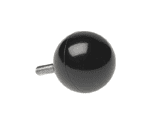 0030
1"/ 25mm Thermoset
Ball Knob
0033
1.375"/ 35mm Thermoset
Ball Knob
0035
1.5" Thermoset
Ball Knob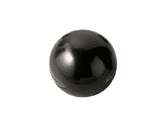 0044
1.72" Thermoset
Ball Knob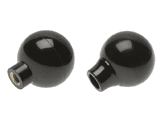 0045
1.72" Thermoset
Ball Knob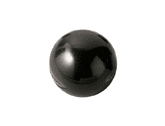 0055
1.94" / 50mm Thermoset
Ball Knob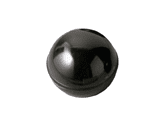 0056
1.94" Thermoset
Ball Knob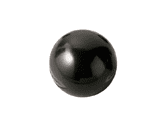 0130
0.78" Thermoset
Ball Knob
0135
1" Thermoset
Ball Knob
0140
1.25" Thermoset
Ball Knob
0145
1.41" Thermoset
Ball Knob
0150
1.625" Thermoset
Ball Knob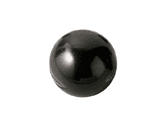 0155
2" Thermoset
Ball Knob
4901
0.67"/17mm Thermoset
Ball Knob
4902
0.73" Thermoset
Ball Knob
5208
2.375" Thermoset
Ball Knob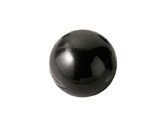 6095
4" Thermoset
Ball Knob