Ball Knobs: The Perfect Combination of Style, Functionality, and Durability!
At Davies Molding, we are dedicated to providing a diverse range of ball knobs that seamlessly blend functionality with timeless style. For over 90 years, we have been manufacturing ball knobs that not only serve a functional purpose but also contribute to the overall aesthetics and user experience. Our team thoughtfully designs our knobs to deliver exceptional performance while adding a touch of elegance, optimal feel, and unmatched durability. You can find Davies knobs on thousands of common products used every day including consumer electronics, machinery, lawn and garden, exercise equipment, plumbing, industrial controls and much more.
We carry a large selection in a variety of diameters, materials, and molded-in inserts, providing the vast selection to fit your specific requirements. Whether you need a compact ball knob for precise adjustments or a larger one for enhanced grip and control, we offer a one-stop solution for any application.
We take pride in offering ball knobs that are not only versatile but also are built to withstand demanding applications. Whether you need the durability of thermoplastic or the heat resistance of phenolic, our ball knobs are available in materials that are carefully chosen to ensure longevity and reliability.
Moreover, our ball knobs feature molded-in inserts, providing secure attachment and ease of installation. This ensures that the knobs remain firmly in place, even during heavy use or challenging conditions, promoting safety and enhancing overall functionality.
At Davies Molding, we strive to exceed your expectations by providing ball knobs that deliver exceptional performance, enduring style, and optimal usability. Our commitment to quality and attention to detail are evident in every knob we produce. With our wide range of options and years of experience, we have the expertise to help you find the perfect ball knob.
Choose Davies Molding for your ball knob needs, and experience the seamless combination of functionality, style, and durability that sets our products apart. Let us enhance your projects with our high-quality ball knobs that are designed to elevate performance and aesthetics in any industry.
Features and Benefits of Davies Ball Knobs
► Extensive diameter assortment of ball knobs available in thermoplastic (TP), thermoplastic elastomer (TPE), and thermoset (TS) materials.
► Thermoset ball knobs are available in both rubber and phenolic.
► Deluxe ball knobs feature a high gloss sheen and are buffed and polished.
► Standard ball knobs are available in several sizes, ranging from 43/64" to 2-3/8" in diameter.
► An optional shank to add height may be included when extra clearance is needed.
► Our thermoplastic ball knobs come in a variety of colors.
► Female insert, projecting stud, and molded/tapped threads options are available.
► Click on the part number for additional information, and search by diameter, mounting, material, etc.
► Knobs can be decorated or customized to your specific need.
Choose the perfect knob below based upon diameter, mounting diameter, mounting type and material.
0131
0.78" Rubber
Ball Knob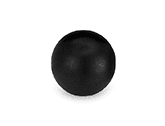 0136
1" Rubber
Ball Knob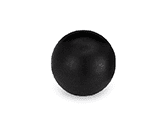 0141
1.25" Rubber
Ball Knob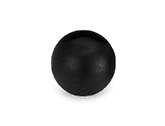 0146
1.41" Rubber
Ball Knob
0151
1.59" Rubber
Ball Knob
0156
2" Rubber
Ball Knob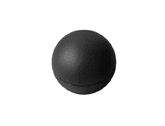 0012
1" Thermoplastic
Ball Knob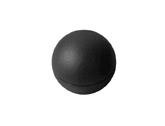 0013
1.17" Thermoplastic
Ball Knob
0014
1.25" Thermoplastic
Ball Knob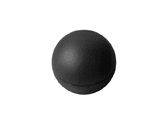 0016
1.375" Thermoplastic
Ball Knob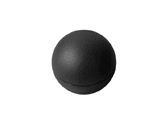 0017
1.54" Thermoplastic
Ball Knob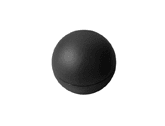 0018
1.5" Thermoplastic
Ball Knob
0019
1.875" Thermoplastic
Ball Knob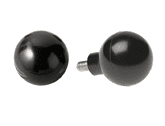 0025
1.25"/ 32mm Thermoset
Ball Knob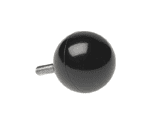 0030
1"/ 25mm Thermoset
Ball Knob
0033
1.375"/ 35mm Thermoset
Ball Knob
0035
1.5" Thermoset
Ball Knob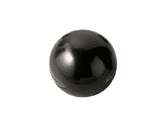 0044
1.72" Thermoset
Ball Knob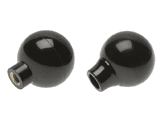 0045
1.72" Thermoset
Ball Knob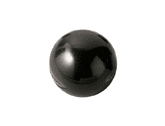 0055
1.94" / 50mm Thermoset
Ball Knob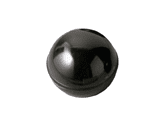 0056
1.94" Thermoset
Ball Knob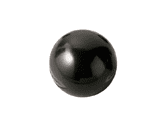 0130
0.78" Thermoset
Ball Knob
0135
1" Thermoset
Ball Knob
0140
1.25" Thermoset
Ball Knob
0145
1.41" Thermoset
Ball Knob
0150
1.625" Thermoset
Ball Knob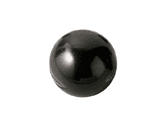 0155
2" Thermoset
Ball Knob
4901
0.67"/17mm Thermoset
Ball Knob
4902
0.73" Thermoset
Ball Knob
5208
2.375" Thermoset
Ball Knob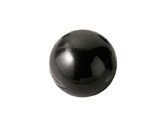 6095
4" Thermoset
Ball Knob