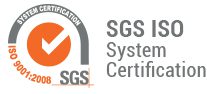 SECONDARY OPTIONS
VACUUM METALIZING
A process in which a metallic coating material is placed in a vacuum chamber with the part to be coated. The material that is being applied is then heated until it starts to evaporate and the vaporized metal condenses on the rotating part as a thin metallic film.
---
Have any questions about materials and capabilities?
Contact Us through our online form or call 1-800-554-9208.